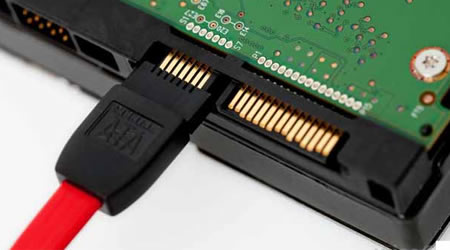 Is your computer reading "SATA hard drive not detected"? Let Data Recovery MD take it from there. We provide true data recovery for the entire United States and Canada. For over 15 years, we've combined excellent customer service with industry leading expertise and affordable rates. Come to our Manhattan offices, or ship your device in. We provide the true data recovery that other services are not capable of. We offer free estimates and a no data, no charge policy.
If your computer is not reading your hard drive, first attempt to reposition your hard drive. It could be a simple issue of detachment, but if you have an older laptop, and have been experiencing other symptoms such as slow response time that could be a sign of a failing hard drive. Was your computer displaying the following symptoms shortly before your hard drive stopped reading?
Clicking, buzzing, beeping, or other unusual sounds emitting form your drive.
Disappearing data and disk errors
Computer crashes when accessing data
Extremely slow access times
If so, don't attempt to power it on anymore, bring it to us immediately. Your hard drive has probably failed. Salvage the remaining data with a SATA hard drive recovery! Don't be duped by serviced that claim to offer data recovery but merely utilize commercially available software.
Our $100K DSAT machinery will read the platters of your damaged hard drive and recover your data, or we can do it manually with our industry standard clean room. This hard drive data recovery is typically only available at astronomical rates. We offer affordable Level 3 data recovery of SATA hard drives throughout the United States and Canada. We believe everyone deserves true data recovery. Not only is our service affordable and effective, we're customer oriented.
We have a $10 million insurance policy, and offer free estimates to all of our clients. If we can't perform a sata hard drive recovery, we will return your hard drive to you, free of charge. Don't be deterred by the "sata hard drive not detected" notice, at Data Recovery MD we will be sure to provide extensive data recovery.